Making new & replacement roofing affordable.
Replacing a roof can be a monumental task but it provides many long-term benefits. On average a new roof will provide a homeowner a 60% return on investment and grants peace of mind knowing that your home is protected from catastrophic water damage that inevitably follows an old, worn-out roof.
There are many factors and options that will ultimately determine the cost of a new roof or roof repairs, but a typical roof replacement will cost between $6,000 and $20,000. That can be an expensive burden for a homeowner especially when it's an unexpected expense.
Obtaining a home improvement loan for a roof replacement through your contractor is a great financing option. With a quick and easy application process, near-instant approvals, and low rates, that new roof investment and peace of mind are within reach.
Soft credit pull – won't affect your credit score
No prepayment penalties or hidden costs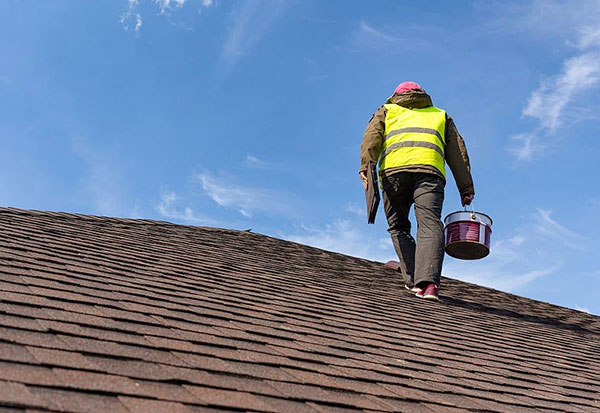 The Benefits of Financing Your Roofing Project
The roof is one of the most important aspects of any house. It protects against the weather and helps regulate the internal climate of your home.
Whether due to unexpected occurrences, a home investment or standard upkeep and renovation, financing a roofing project with a home improvement loan creates a more affordable project, allowing you to get the project done correctly and efficiently without the worry of large upfront costs.
Financing Allows You To Get The Roofing Materials You Need For Your Home
Get the most out of your home improvement investment without sacrificing on the materials you really need. Not all roofs are created equal and as a result, the price of a new roof replacement can vary greatly. Examples of some of the most popular roofing materials and their relative costs are as follows:
Asphalt Shingle roof: Costs between $3.50 and $7.50 per square foot and has a lifespan of 20 to 30 years.
Slate roof: Costs between $15 and $25 per square foot and has a lifespan of 50 to 200 years.
Metal roof: Costs between $7 and $18 per square foot and has a life expectancy of 40 to 70 years. The most common types of metal roofs come in aluminum, copper, and steel.
Tile roof: Costs between $8 and $25 per square foot and has a lifespan of 50 to 100 years.
As you can see above, a slate, metal or tile roof will cost you infinitely more than an asphalt roof, but with increased costs also comes increased durability, which may be more beneficial to you in the long term.
Financing a home roof replacement project allows you the option to invest in your preferred materials without wondering how you'll be able to afford it.
Try out the loan calculator to see your estimated monthly payment.
Applying For A Home Improvement Loan Is Quick & Painless
A roof replacement is a major, but necessary home improvement project. The most common roof repair is a full replacement for a leaky or damaged roof and postponing a much needed roof renovation will only lead to additional costs down the line. If not resolved quickly, a leaky roof will cause mold and lead to more expensive repairs to other parts of your home.
Financing through a quality lending partner like PowerPay offers a quick and easy application process, done entirely online from the comfort of your home and with near-instant approvals on home improvement loans of up to $100,000. Using financing to purchase a new roof can provide you with low and affordable monthly payments.
Have No Fears About Extra Fees or Prepayment Penalties
PowerPay provides loan terms of up to 15 years to help homeowners afford the repairs they need today, but will also never penalize you for paying your loans back sooner than the payment terms.
This helps provide the comfort and safety of knowing that repayment is up to you. If something unexpected happens, you have the time built in to pay your loan back slowly, or if you need to free up funds for the future, it allows you to pay it all off sooner without any fear of added fees or penalties.
A New Roof Has a Huge Return of Investment (ROI)
Whether you're preparing to sell your home or simply want to boost its value for the future, financing with a home improvement loan allows you to get more than just the bare minimum.
Most homeowners who opt for a full roof replacement can recoup up to 65% of the installation costs through the increased value of their home. With such a high return on investment and the increased curb appeal, when you are ready to sell, a new roof will interest more buyers and get you a higher price tag making financing of the project even more attractive.
What Is The Average Cost of an Asphalt Shingle Roof?
The most common type of roof, an asphalt shingle roof, costs on average $8,000 for a full replacement making it an expensive home improvement, even for the cheapest of materials. With financing, homeowners can cover the entire upfront costs of a new roof, turning a roof replacement into low and affordable monthly payments. As an example – a $10,000 roof financed over 15 years would cost under $100 per month at 9%.
Does A New Roof Increase The Value Of My Home?
Yes, it does. In fact, most homeowners see between a 60-65% return on their investment after installing a new roof. And, due to the lengthy lifespans of roofing materials, you can be sure that investment will remain long after the project is completed.
How Quickly Can I Be Approved For A Roofing Project Loan?
A great financing partner can approve you for up to $100,000 in as little as 60 seconds. Working with a contractor who offers financing makes the process that much easier by offering applications directly through their website and removing the tedious process of coordinating with multiple parties before your project can even begin.
Is There A Benefit To Financing even If I Can Afford The Cost Out Of Pocket?
Yes! There are many benefits that come with financing a home improvement project like a roof replacement or roof repair. Working with a contractor who offers financing with instant approvals, low APRs and low monthly payments allows homeowners to complete the necessary renovations while still saving for future needs.
Additionally, a great loan provider will not charge prepayment penalties to those who can afford to pay their loan back sooner instead of waiting the full term, giving you the benefit of financing without the downside of an unnecessary timetable.